The biggest challenges of online businesses are how to receive payments and how to keep it secure from third parties? Having a secure payment system that doesn't compromise your customers' personal information is something you should give utmost priority, as it not only affects your credibility but also gets you into the trouble. Therefore, with this article, we help you find out some of the popular payment getaways you can trust with.
1. Authorize.Net
Authorize.Net is a popular payment gateway provider that allows merchants to accept and manage credit card and electronic check transactions via websites, retail stores, mail order/telephone order (MOTO) call centers, and mobile devices. Since its founding in 1996, it has a reliable service of over 400,000 clients. Key attractions are fraud detection feature, simplified checkout system, support for automated recurring billing, a customer information manager, and QuickBooks support — all for free. eCheck processing is also available for a low additional fee.
Pros
No long-term contracts
Monthly Billing
Supports multiple currencies
Anti-fraud features and strong security
Cons
High flat-rate pricing for an optional merchant account
It may be cheaper to use Authorize.Net when bundled with another service
The all-in-one option may confuse customers
Pricing
The Authorize.Net pricing scheme covers three subscriptions: All-in-One Option (gateway fee of $25/month, plus a per-transaction fee of 2.9% + $0.30), Payment Gateway Only (gateway fee of $25/month, plus $0.10 per transaction and $0.10 daily batch fees), and Enterprise (custom priced). The main difference between the plans is the target user.
2. PayPal
Almost every one of you would have used PayPal for your transactions or at least heard about it. PayPal is an American company that operates an online payment system worldwide that allows online money transfers and acts as an electronic alternative to traditional paper forms such as checks and money orders. The company operates as a payment processor for online vendors, auction sites and many other business users, charging a fee for benefits such as one-click transactions and password memory. Their PayPal Payments Pro is a successful attempt to introduce a payment processing service for e-commerce users without a PayPal account.
Pros
Trusted by consumers
Easy to set up and use
Predictable flat-rate pricing
All-in-one payments system
Multiple pricing plans available
Ideal for low-volume merchants
Extensive integrations
Good developer tools
Cons
Account stability issues
Not suitable for high-risk industries
Inconsistent customer support
Pricing:
PayPal does not charge the buyer of a transaction when it occurs in the US. As a seller, you'll pay 2.9% + $0.30 per transaction.
3. Stripe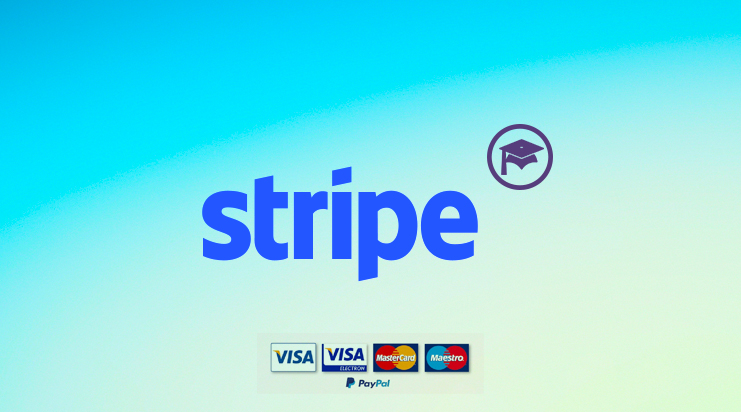 Although it is available in more than 25 countries, a stripe is mostly used in Canada, Australia, and the United Kingdom. This U.S based payment gateway supports all major credit cards and offers Woo Commerce integration as well. Key features are customized checkout experience, multiple payment options, secure payment processing, and optimized reports and insights. It processes charges and displays prices in a customer's preferred currency to improve sales and help customers avoid conversion costs. Many big-name online businesses such as Pinterest, Lyft, Under Armor, Blue Apron, Wish, TaskRabbit, etc. use Stripe for processing payments. It's powerful, easy to use, and has industry-leading features.
Pros
Excellent developer tools
Advanced reporting tools
Predictable flat-rate pricing
Exceptional subscription tools
Multi-currency support
Ideal for international merchants
Excellent marketplace tools
Cons
Account stability issues
Needs technical skill to implement
Not suitable for high-risk industries
Pricing
Stripe charges on a flat-rate fee structure: 2.9% + $0.30 for every credit card transaction and 2.7% + $0.30 for every in-person credit card transaction using a Stripe terminal.
4. Amazon Pay
This payment gateway is specially designed for Amazon merchants and shoppers. It is fast, easy, and reliable and comes in two different packages – Pays with Amazon (Merchant) and Log in and Pay (Shopper). Pay with Amazon is designed specifically for online retailers and sellers who want to provide a smooth shopping experience for their buyers. whereas, log in and Pay allows Amazon users to enjoy fast and speedy checkout on thousands of sites and apps. Pay With Amazon makes it easier for retailers to accept online and mobile payments. The application allows users to easily access their information from the merchant's website, thus streamlining the purchasing process as they no longer need to enter their information such as name, shipping address, and credit card details. All this without compromising the integrity of Amazon. Key features are its identity, automatic payments, inline checkout, merchant website integration, and fraud protection.
Pros
No early termination fee
Easy to use
24/7 customer support
Brand recognition
Added convenience
System simple to implement
Cons
Pay is slow unless you are a high-end seller
Reports of withheld funds
High processing fees
Pricing
Amazon Pay Pricing & Fees
No free trial.
| | | |
| --- | --- | --- |
| Monthly Payment Volume (GBP)* | Processing Fee** | Authorization Fee (GBP) |
| Less than1,500 | 3.4% | 0.20 |
| 1,500.01-6,000 | 2.9% | 0.20 |
| 6,000.01-15,000 | 2.4% | 0.20 |
| 15,000.01-55,000 | 1.9% | 0.20 |
| Above 55,000 | 1.4% | 0.20 |
Cross Border Fee
| | |
| --- | --- |
| Aland Islands, Denmark, Finland, Iceland, Norway, Sweden | 0.4% |
| Austria, Belgium, Canada, Channel Islands, Cyprus, Estonia, France (including French Guiana, Guadeloupe, Martinique, Reunion, 2and Mayotte), Germany, Gibraltar, Greece, reland, Isle of Man, Italy, Luxembourg, Malta, Monaco, Netherlands, Portugal, Montenegro, San Marino, Slovakia, Slovenia, Spain, United States, Vatican City State | 0.5% |
| Andorra, Albania, Bosnia & Herzegovina, Bulgaria, Croatia, Czech Republic, Hungary, Latvia, Liechtenstein, Lithuania, Macedonia, Moldova, Poland, Romania, Russian Federation, Serbia, Switzerland, Turkey, Ukraine | 1.0% |
| Rest of the world | 1.5% |
Source: Amazon Pricing
5. Skrill
Skrill has millions of customers, with more than 100,000 merchants that use the platform for merchant accounts. Skrill has become one of the most popular payment gateways as it understands business is all about facilitating customers. Payment processing with Skrill is very simple with several options such as credit cards, cash and email- transactions and transaction capabilities for more than 30 currencies. All you need to do is sign up on the website and get the services. It allows you to withdraw cash from ATMs too. Skrill offers high security with a little bit more expensive than other platforms that offer similar services.
Pros
Supports in-app payments
Hosted payment page
Integrates with third-party shopping carts
Cons
Account stability issues
Limited pricing disclosed online
Expensive fees to transfer money
Basic reporting
Poor customer support
Pricing
Rates vary between businesses based on their monthly sales volume. Businesses making up to $3,000 in sales are charged a rate of 2.90% plus $0.29. Businesses with sales between $3,000 and $10,000 are charged a rate of 2.80% plus $0.29. The next tier of sales over $10,000 but under $100,000 are charged a rate of 2.70% plus $0.29. Lastly, sales exceeding $100,000 a month are given a rate of 2.60% plus $0.29. Merchant accounts are also charged a fee of $0.49 for each refund and $20 for chargebacks. For U.S. users, Skrill charges a fee of 2.9% to load an account using a Visa or MasterCard card and a fee of 7.50% to load an account using a Paysafecard prepaid card. Users can load a Skrill account via ACH transfer for free. Withdrawing funds from a Skrill account costs $5.50, and sending money to another Skrill user costs 1.9% of the transaction (maximum charge of $20). There is also a monthly inactivity fee of $3.00 starting in the 13th month of inactivity. These costs are subject to change, so U.S. merchants are advised to check the company's currently displayed pricing. Source: cardpaymentoptions.com
6. SecurePay.com
With more than 15 years of experience in the online payments industry in the Australian market, SecurePay is an all-in-one online payment gateway solution for businesses and organizations of all sizes, especially small and medium businesses. SecurePay was recently awarded the Nora Solution Partner Excellence Award for Best Security/Anti-Fraud protection. It offers more payment options for business customers including Visa, MasterCard, American Express, Diners Club International, and PayPal. This allows them to make an instant online purchase, which can help companies to generate further sales. It provides a simple application process online that involves no visits to banks.
Pros
Easy to use
Payment rates based on a business's processing volume.
Prepaid rates allow businesses to pay only for the swipes they use
SecurePay Insights goes beyond payment analytics to also notify businesses when information is posted online about their brands.
Cons
Customer service hours aren't listed
In-store payment processing is only available via a virtual terminal, which limits those businesses that want a traditional POS setup.
Pricing
SecurePay offers two enterprise pricing structures. Online payments (2.4% for every transaction) and e-Commerce payments (45c per transaction + $395 annual fee). It does offer a free trial.
7. 2Checkout.com, Inc.
Often known as "2CO," 2Checkout provides services similar to PayPal and Stripe and available in more than 87 countries. Nevertheless, contrary to some of its rivals, 2Checkout does not require the merchant's customer to sign up for a 2Checkout account and simply allows the customer to pay with a credit or debit card (among other options). It is an all-in-one monetization platform known for its global payment options and plug-and-play solutions for small business owners.
Pros
Predictable flat-rate pricing
Best for international merchants
Excellent website & advertising
Monthly agreement
Cons
Not suitable for card-present merchants
Complaints of bad customer support
Not good for high-risk merchants
Held funds
Pricing
2Sell Plan – This is for those selling internationally. It has a rate of 3.5% +$0.35 per sale.
2Subscribe Plan – This is for those selling subscriptions. It has a rate of 4.5% +$0.45 per sale.
2Monetize Plan – This is for those selling digital items on a global scale. It has a rate of 6% +$0.60 per sale.
8. First Data Corporation
First data is one of the oldest payment solutions for every type of business. It accepts every credit and debit card option, including, MasterCard, Visa, Diners Club International, American Express, Discover Network, PIN-based and signature debit cards. Key features are fraud screening, transaction approval in 1.9 seconds or less, compliance with PCI standards, transaction data and analytics, chargeback dispute resolution, receive e-deposits directly to your bank account, seamless integration with point of sale software, ability to offer cashback with a debit card purchase, POS terminal options that can securely and quickly accept any card payment type and streamlined account management with Business Track.
Pros
Full line of Clover terminal, mobile, and POS systems
24/7 customer support
Extensive online knowledgebase
Low interchange-plus rates available to high-volume businesses
Many complementary services
Cons
Overpriced equipment leases
High fees
The four-year standard contract with liquidated damages clause
Expensive equipment leases
Pricing
Pricing and fees of a First Data merchant account will vary by the reseller, agent, and merchant. Merchants who process up to $50,000 each month will receive a swiped rate of 2.69% plus $0.19 and a keyed-in rate of 3.69% plus $0.19. Merchants whose monthly charges exceed $50,000 will receive a swiped rate of 2.29% plus $0.19 and a keyed-in rate of 3.29% plus $0.19.
9. BluePay Processing LLC
BluePay offers a wide range of credit card payment options that helps all types of businesses to cover basic and unique business needs. Its services include electronic billing and invoicing, mobile credit card processing, virtual terminal, and more. They deliver a range of tailored merchant accounts that can easily fit a particular type of business and service. Its industry-specific solutions are what make BluePay very popular even for non-business entities such as churches and non-profit groups. They provide affordable terminal leasing packages for businesses that can't afford to invest in their credit card terminals. BluePay offers its own in-house virtual terminal/payment gateway so companies don't have to process payments with separate gateways such as Authorize.net. All payments are processed under one roof.
Pros
Canadian merchant accounts offered
eCheck processing offered
Numerous integrations
Cons
No pricing disclosed online
Difficulty in closing or modifying accounts
Sudden account terminations
Early termination fee
Pricing
BluePay's standard merchant account contract is a three-year service agreement with a successive one-year automatic renewal clause. In the event of a service cancellation while under contract, a merchant may be subject to a $295 cancellation fee that is automatically withdrawn from the merchant's attached checking account. Though the company does not explicitly list rates on its website or program guide, merchant reviews reflect a swipe rate of 2.39% plus $0.25 and 2.99% plus $0.20 for keyed-in transactions.
10. PaySimple
Trusted by over 17,000 companies, PaySimple is ideal for small to mid-sized businesses with a recurring client base or is looking to market services, accept payments, and manage customers in one complete system. Services offered are debit and credit card processing, ACH processing, electronic invoicing, recurring billing, online payment gateway, and virtual terminal, and customer relationship management. The all-in-one platform is intuitively built to help businesses built trustworthy relationships with their customers by delivering extremely flexible options that meet customers' payment needs with the use of Omnichannel billing and payment solution. Other features include a 360-degree Point-of-Sale Software with Recurring Billing, Sales & Order Reporting, and Electronic Invoicing.
Pros
Ideal for service industries
No early termination fee
Good subscription & invoicing tools
Good customer support
Cons
Not good for high-volume, card-present merchants
Not suitable for international merchants
Un-transparent tiered pricing
Pricing
PaySimple pricing offers a single monthly subscription option that costs $49.95 per month plus 2.49% per credit card transaction. It does offer a free trial. PaySimple only processes transactions made within the U.S. Funds are usually deposited into a user's account within two days.