You might wonder if email marketing is still relevant amidst the newer technologies such as mobile text alerts, Facebook ads, re-targeting and native advertising, etc. Although email has been around for over 40 years, it is still one of the most effective way to promote your business. Emails are highly adaptable and have a 4,400% return on investment (ROI) rate. It is more powerful than social media as it is easy, inexpensive and effective. And is more dependable for small businesses. However, your results still depend on the way you use it. Understanding your customers, building trust and ensuring only valuable, high quality content are the most important steps in email marketing.
What is Email Automation?
It is very hectic and boring performing same tasks for different customers as part of your email campaigns. Email automation helps you to tackle this problem by decreasing your workload and save you more time.
Email automation is converting the dispatch of email messages from a manual process (email blasts) to an automatic one triggered by the actions of your subscribers. It makes your messaging more personalized and timely — two of the most important aspects of any successful email marketing campaign.
The benefit of email marketing automation is that once you set up the email automation, no more action needed. It just works for you, automatically. Even while you sleep. Sounds interesting? Let's dive deeper into the subject.
Top 6 free email automation tools
We already discussed that even if email marketing is highly efficient, your original results always depends upon strategy. Creating a visually pleasing email from scratch can be time consuming and hectic among other works. You may face other challenges as well. To stay upfront, you may need help of an email automation tool. You don't have to worry even if you are on a budget. The below list of email marketing tools will decrease your workload without spending a single penny.
1. SendInBlue Email
SendinBlue is a leading email marketing service from France launched in 2012. Apart from email marketing tools, SendInBlue also provides additional functions such as customer relationship management and landing page creation. It also includes over 70 responsive design templates. Plus, you can preview your results and ensure if it meets your criteria.
After designing your email, you can use features such as A / B testing and segmented recipient lists to optimize your campaigns and target your specific audience and make voluntary effort and guess working.
Basic features are marketing automation, marketing campaigns, transactional emails, SMS messages, chat, CRM, Facebook ads, and retargeting ads. It works in 6 languages and helps you build detailed contact lists for free.
Pricing:
SendInBlue charges based on the number of emails you send. Its free plan includes marketing automation, up to 300 emails per day (9000 emails per month), and phone support for the first 60 days. Paid plans start at $25 a month for 40,000 emails with no daily limits.
Pros:
Low cost plans
Solid email automation
Landing page editor
SMS marketing tool
It's simple design helps the users with very little technical know-how to easily create a campaign.
It offers automated text messages (for an additional charge) so that users can access two channels to reach their customers.
Cons:
Setting up logins for multiple users is only possible on their Premium and Enterprise plans.
Limited integrations.
The daily sending limit is 300 in free plan, which is very less.
There are dual responses regarding customer service.
2. Mailchimp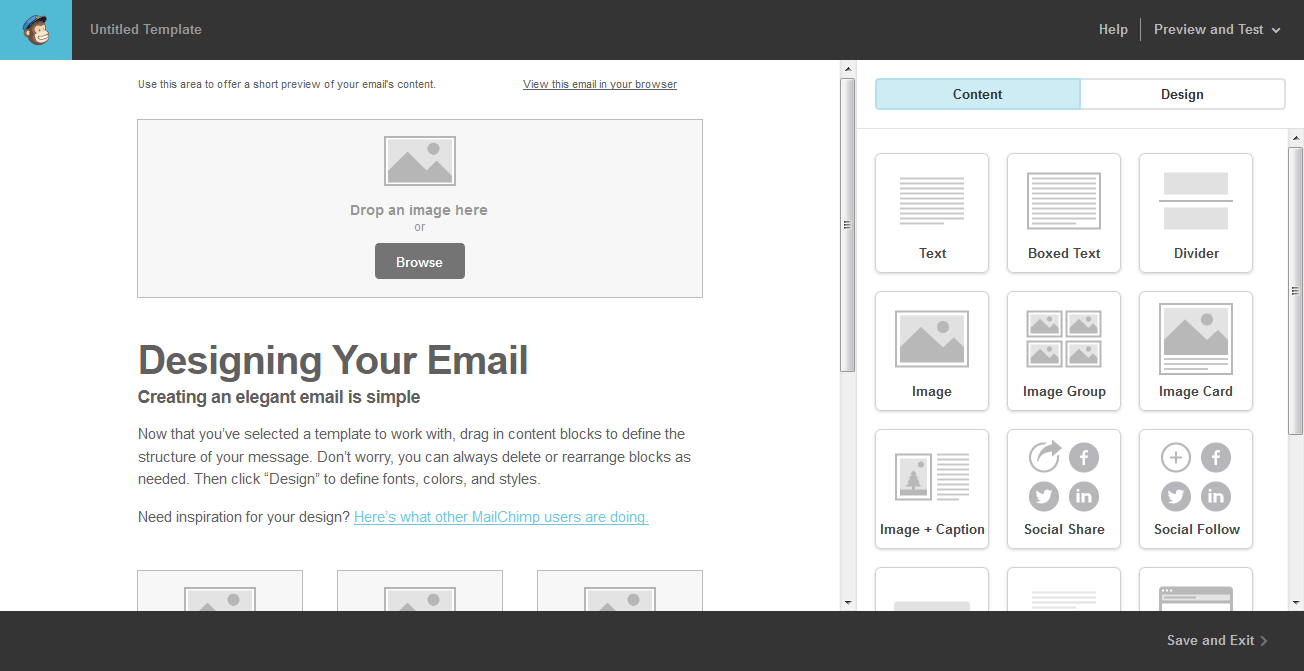 This popular email marketing tool is best suitable for bloggers and small businesses. Mailchimp has a user-friendly design, tons of integration opportunities and offer a completely free plan. Users can send marketing emails and automated messages, build landing pages, send postcards,create targeted ad campaigns, and facilitate reporting and analytics.
One of the main reasons to choose MailChimp is it's smart recommendations feature, which provides you with valuable audience insights to optimize your marketing efforts.
Another main attraction of MailChimp is its mobile apps. Your customers can sign up for your newsletter from the app. Even if you're out, you can simply write an email and send it to your entire list from your phone.
Mailchimp was named one of Fast Company's most innovative companies in 2017; and ranked 11th on the Forbes Cloud 100 list in the following year.
Pricing:
The free plan includes 10,000 emails per month for up to 2,000 subscribers. Paid plans Start at $9.99 per month for 50,000 contacts.
Pros:
Integration possible to WordPress, Twitter, Facebook, Magento, Salesforce, ZenDesk, BigCommerce, Drupal, Mandrill, and Google Analytics.
The automation tools include options for abandoned carts, welcome campaigns, and product recommendations.
A/B testing and segmentation make your emails more effective.
Provides easy-to-read analytics reports that show comparisons to aspects of your email performance compared to older emails and others in your industry.
Cons:
Sign-up forms are difficult to customize
Features such as auto responders, spam filter diagnostics, email client testing, delivery by time zone, advanced social media monitoring, and email/chat support are not included in free version.
3.HubSpot
Hubspot is often ranked first in the list of email marketing services as it provides its users lots of services for free that are available only available on other products' paid versions.
Basic features include streamlining email marketing services through the use of automated workflows.
HubSpot's drag-and-drop email builder helps you to create professional marketing emails easily without the help of designers. This incredible tool helps you to achieve incredible results with little effort. They also provide Hubspot CRM for free to create tailored touch-points for your customers. You can tailor relevant emails based on any details you have as HubSpot email is automatically connected with HubSpot CRM.
Pricing:
HubSpot has several free tools. They currently offers four paid plans depending on the types of features you need and the number of contacts you need to handle monthly. They have Starter, Basic, Pro, and Enterprise plans that cost $50/month, $200/month, $800/month, and $2400/month, respectively. Hubspot also offers add-ons that you can include in your monthly plan for a fee.
Pros:
Free option available
Simple user interface
Integrates with Gmail and Outlook
Cons:
Training is largely online
Not great for larger companies
Email templates are limited with just a newsletter and promotion format.
Can't upload codes in HTML.
4. Mailerlite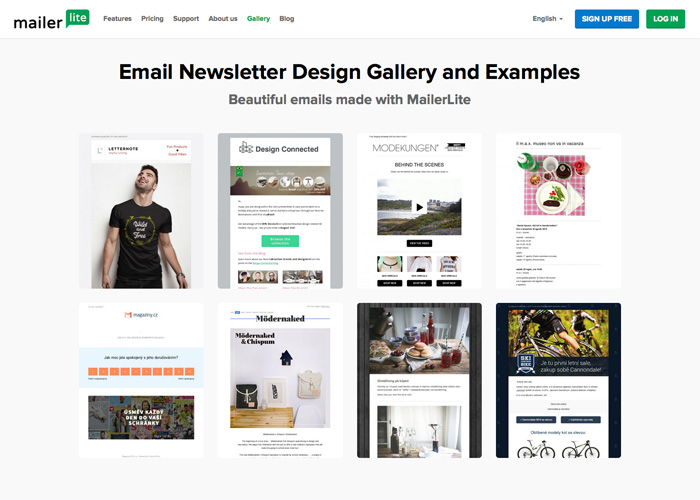 Mailerlite is simple, user friendly and streamlined software with beautiful email design and excellent customer support. It allows you to quickly create email campaigns, track their results, and manage subscribers. Compared to other softwares Mailerlite's email templates are more flexible. They use the same header, signature, background colors, and content blocks, but still look unique which makes them easy to customize. Start out with any template—or a blank one—then tweak the header style, drag in the sections you want, and add content or fill in details in the sidebar on the right. With mailerlite, you can make your emails more interactive by including more than just text and images. It has a countdown timer that shows the time remaining dynamically, until you launch a product or before a sale is over. You can also add product details, embed a video, pull in your most recent blog posts with a dynamically updating RSS block, and more. In 2017 it topped a Forbes chart for customer satisfaction.
Pricing:
Mailerlite's free plan includes limited access to its features. It offers 12,000 emails per month to 1,000 subscribers. Paid plans Start at $10 per month for unlimited emails to up to 1,000 subscribers.
Pros:
Easily design a mobile-optimized email template for free.
Easy to use for first time users.
Using delivery-by-time-zone, you can send a newsletter to your global subscribers at optimum time.
Cons:
Features may not be sufficient for advanced marketers.
Compared to its others, it's template gallery is a little skimpy.
5. Zoho campaigns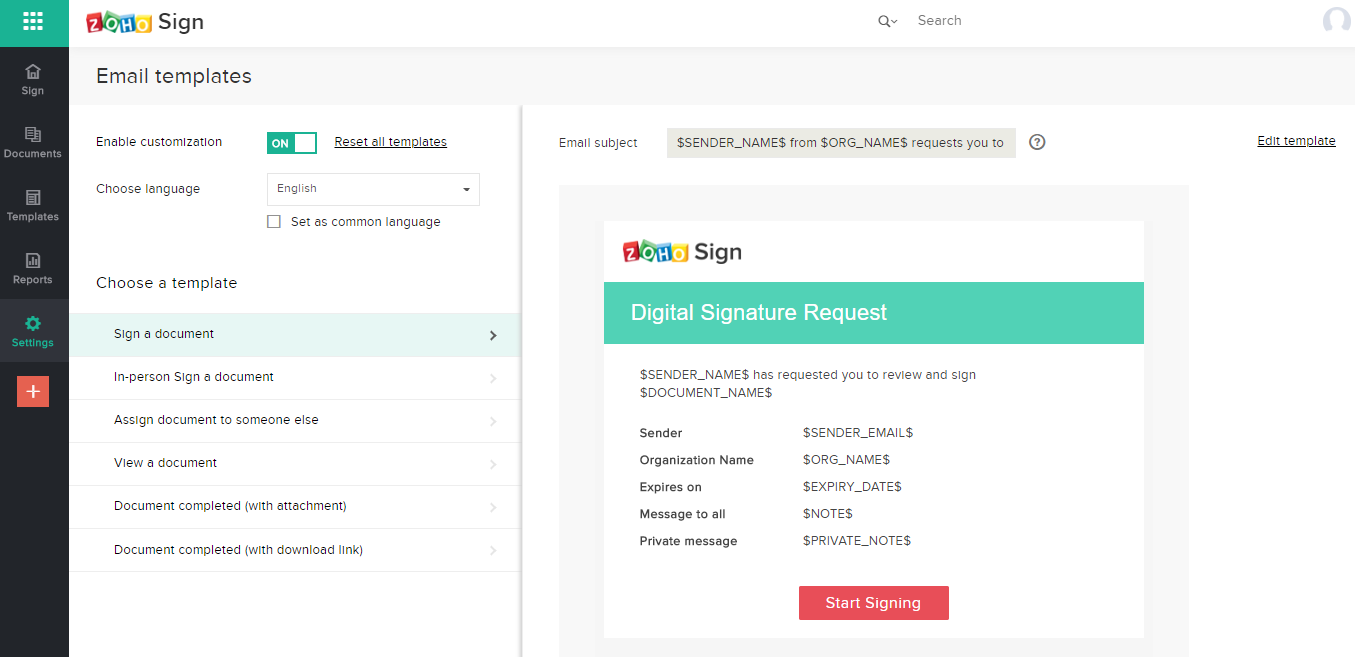 Zoho campaigns is a cloud-based software comes with one of the best tools for conducting email marketing campaigns. You can either choose from pre-designed templates or customize according to your needs. Known for its SaaS applications, Zoho offers a generous free plan that includes premium features such as A/B testing, reports, and templates. Additionally, it has a recipient's activity tracking tool and the ability to measure engagement, helping you determine how your users engage with your messages. The software helps you better plan, execute, manage, and analyze email reports for future email campaigns. Zoho is ideal for small to medium businesses.
Pricing:
Zoho Campaigns offers a forever free plan and can support 12,000 emails per month for up to 2,000 subscribers. Pricing starts at $5 per month for up to 500 subscribers.
Pros:
You can design your own templates
Integration possible with other Zoho products such as Zoho CRM, as well as G Suite.
Cons:
Can't include videos in your emails
Takes lots of time and Customization to launch a campaign.
6. Bench mark
Benchmark is equipped with premium features and is designed to take care of an enterprise level business. The free version includes a drag-and-drop editor, select from various templates, use sign-up forms, build basic drip campaigns, and use the List hygiene feature. You can even edit the image right on the platform. Ideal for seasoned businesses with large subscribers.
Pricing:
Benchmark offers a free Starter Plan with up to 2,000 subscribers and 14,000 emails per month. The next upgrade plan starts at $13.99 for up to 600 subscribers and unlimited email sends per month.
Pros:
It is free and easy to implement
Includes well-designed templates and tools
User-friendly
Cons:
Free version does not include A/B testing or automation features
You can only email contacts who fill out Benchmark subscriber forms. In the free plan, contacts can't be added via list import.